The rooms, furnished with sober elegance, take their name from the olive varieties that the organic farm Sant'Ambrogio cultivates. All the accommodations show off structural elements typical of Tuscan architecture, declined in slightly different ways. The large windows of the rooms overlook the woods and the expanses of the Reserve and fill the rooms with natural light.
Superior Rooms
The Superior Rooms boast an optimal position from which you can admire breathtaking views of the Val d'Orcia and the enchanting city of Pienza.
Deluxe Rooms
The perfect option for those looking for some space and more privacy. The Deluxe rooms also offer a breathtaking view of Pienza.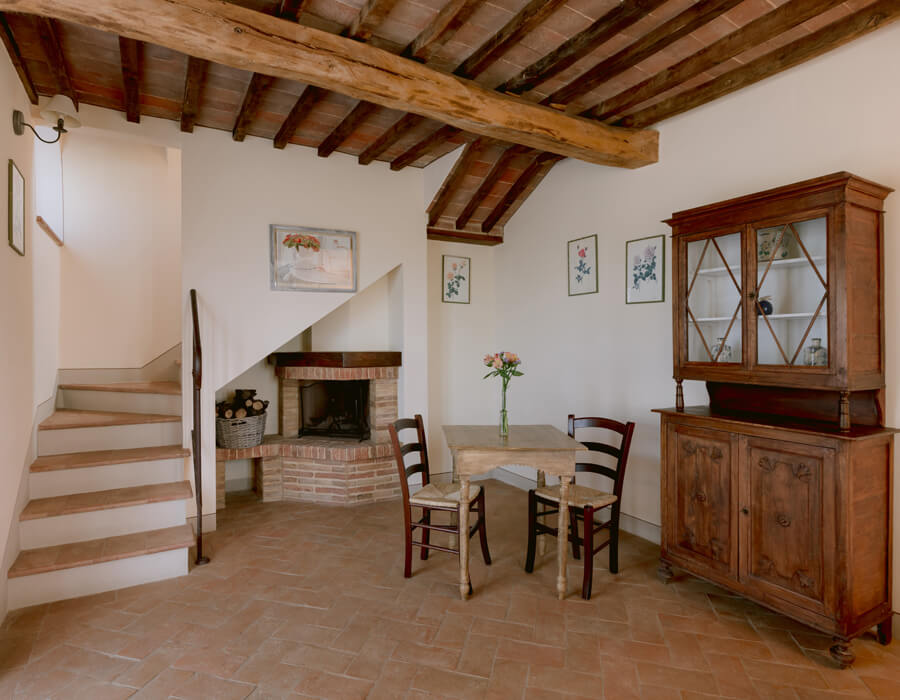 Junior Suites
Each Junior Suite is equipped with private bathroom, TV, kettle with herbal teas, refrigerator, heating, AC and Wi-Fi.
Perfect for enjoying the large living room, surrounded by the panoramic view.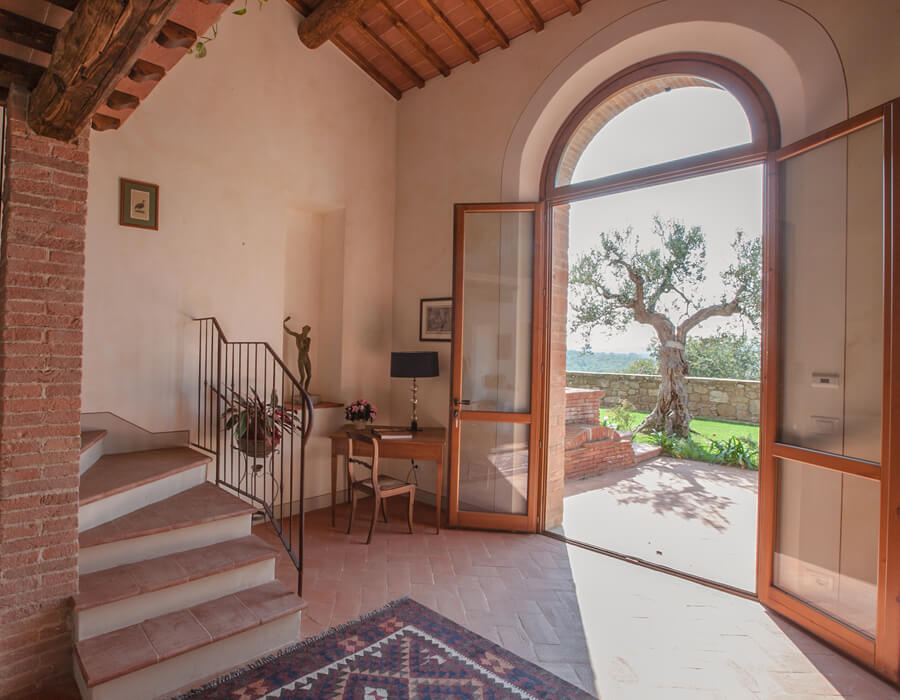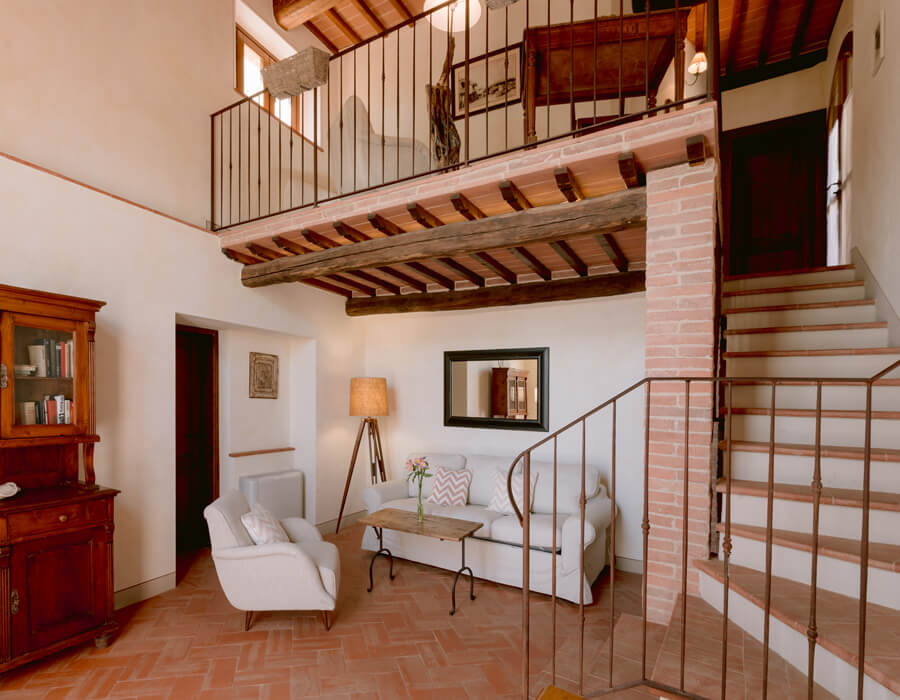 Suites
Our Suites are the most luxurious and spacious rooms available.
Perfect for families with children or couples who want to enjoy complete independence, privacy and tranquility.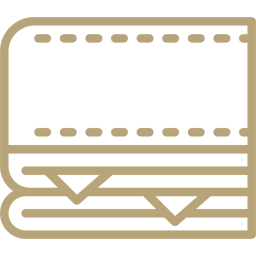 Kettle + Tea, Coffee and Herbal Teas
Activities in the surroundings
A territory to be discovered
Through our partners we are able to give unforgettable experiences to our Guests and allow them to enjoy the beauty and entertainment of the area during their stay. We present a selection of activities that can be organized during your free time.
The availability of some services varies according to the season and the number of participants involved. It is therefore advisable to book them a few days in advance. Since the activities are organized according to the customer and his specific requests, prices may vary. You can always request information or detailed quotes via the Contact page.
Esperienza magica! Una nota speciale merita il servizio. Il personale gentile, competente ed empatico. La signora che ci ha accolto a pranzo come ci conoscessimo da sempre.. e le sue torte a colazione squisite. Resort curato in ogni dettaglio e di una pulizia sopra alla media. Dai giardini alle camere, impeccabile. Cibo ottimo. Dalla colazione alla cena. Un soggiorno estremamente piacevole
Un vrai paradis ! L'endroit est magnifique, soigné et calme. Au milieu de la Val d'Orcia, non loin de Pienza et Montalcino. Le personnel d'une gentillesse exquise, toujours au petit soin. Je recommande à 100%.
Voyagezavecmoi
8 August 2022
Un tuffo nella Toscana dei sogni. Non ci sono parole per descrivere questo angolo di paradiso che fa onore alla nostro bellissimo paese. Se avete bisogno di ricaricare le pile, anche per un giorno solo, questo posto è perfetto. Pulizia impeccabile, gli spazi esterni sono esageratamente curati e bellissimi, la colazione è eccellente e le torte fatte in casa non hanno rivali.
Fiorellino66
15 July 2022
Amazing stay An amazing stay in the heart of Tuscany. The staff is very friendly and helpful, the location is and the facilities are stunning and the restaurant is outstanding. Looking forward to stay again in the future. If you can, stay more than one night, it is worth it.
Il Paradiso è qui Il Borgo è una perla nella campagna toscana, dove si respira aria buona carica di bellezza italiana e natura. Curato e pulito, il posto ha una eleganza e un equilibrio naturali e non costruiti. Stanze dotate di ogni confort in perfetto stile casa di campagna toscana, con vista mozzafiato sulle colline. Ambienti comuni ampi e attrezzati per riposo e relax. Colazione ricca e abbondante, cucina gustosa e ricercata. Pulizia e gentilezza chiudono un soggiorno perfetto. Tornerò presto!
Amazing Tuscan resort ! Great food ( products come from local farms ), the staff was super friendly and speak great English. The pool was really nice, the room was clean and had all you'd need. The location and the views were simply breathtaking. Almost didn't want to move to the next stop on our trip once we stayed here ! The staff had found out my wife had a birthday on our first day here and surprised us with 2 glasses of Prosecco. Dinner was really delicious with the staff being fully aware of what they offer and made great recommendations for both food and wine. My partner being a vegetarian was no issue at all and they gave her a few options of what they can prepare for her on the spot - delicious.
Best of Tuscany. Great resort. This resort is a must if you are visiting Tuscany, very close to Pienza, Montepulciano. The service is extraordinary from the first moment we arrived, and I had an issue with the car. The pool, gardens, and the whole resort is the best place for a relaxed stay and visit around. In the evening, the restaurant setting and food are not to miss. It made our trip very enjoyable. Thanks
Jose Manuel
13 August 2022
The hotel is located in an idyllic area close to Montepulciano. It is everything you can imagine about Tuscany and beyond. Very well maintained, the gardens and green areas around it are perfectly kept. Breakfast was amazing, all organic products grown nearby. We will definitely recommend it.
Bellísimo resort emplazado en un lugar soñado. Elevado y con vistas al valle y a Pienza. Sumamente limpio y su atención es excelente. Nos recibió Maurizio y fue un gran anfitrión. El restaurante tiene muy buenas opciones de cocina y bien preparadas. La atención de David fue muy profesional. Relación calidad- precio general: excelente!
We loved the Borgo and didn't want to leave. The vibe of the hotel is impeccable - beautiful views, completely relaxing space, and breakfast and dinner are delicious. Couldn't have been happier with our stay and would love to return. Esperamos volver pronto y desde ya, lo súper recomiendo!